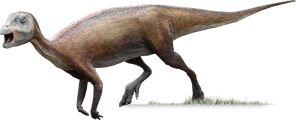 Pronunciation
:
AT-las-KOP-ko-SOR-us
Meaning
: Atlas Copco lizard
Authors
: Rich and Rich (1989)
Synonyms
: None known
First discovery
: Victoria, Australia
Roar factor
: 2/10
Atlascopcosaurus loadsi
Unearthed at Dinosaur-Cove in Victoria in 1984, Atlascopcosaurus was assigned to "Hypsilophodontidae" — a family of small, bipedal herbivores — by husband and wife team Tim and Patricia Vickers-Rich five years later solely on the strength of ridges on its cheek teeth.
However, non-hypsilophodonts such as Zalmoxes, Camptosaurus, Dryosaurus, Gasparinisaura and Talenkauen all have ridged cheek teeth too. Moreover, "Hypsilophodontidae" has since collapsed due to a lack of members. Even its flag-bearer Hypsilophodon has closer relatives elsewhere!
In their reappraisal of Australian dinosaurs in 2010, Agnolina and colleagues recovered Atlascopcosaurus as a basal ornithopod, perhaps closest to Gasparinisaura and Anabisetia, but its meagre remains continue to put the kibosh on a more concrete classification.
(Loads' Atlas Copco lizard)
Etymology
Atlascopcosaurus
is derived from "Atlas Copco" (for Atlas Copco, the company who supplied drilling equipment for the expedition) and the Greek "sauros" (lizard).
The
species epithet
,
loadsi
, honors the Atlas Copco regional company manager William Loads, who also assisted with the dig. Loadsa honor for the loadsi lizard.
Discovery
The remains of
Atlascopcosaurus
were discovered in the Eumeralla Formation, Otway Group, Dinosaur Cove, Victoria, Australia, in 1984. The
holotype
(NMV P166409) is a piece of left-upper jaw bone (maxilla) and four cheek teeth.
Estimations
Era
: Mesozoic
Period
: Early Cretaceous
Stage
: Aptian
Age
: 118-110 million years ago
Est. Max. Length
: 2 meters
Est. Max. Height
: ?
Est. Max. Weight
: 100 kg
Diet
: Herbivorous
References
• T. Rich and P. Vickers-Rich (1988) "Polar dinosaurs and biotas of the Early Cretaceous of southeastern Australia." • Federico L. Agnolin, Martín D. Ezcurra, Diego F. Pais and Steven W. Salisbury (2010) "
A reappraisal of the Cretaceous non-avian dinosaur faunas from Australia and New Zealand: evidence for their Gondwanan affinities
."

• D. E. Fastovsky, D. B. Weishampel and J. Sibbick (2005) "
The Evolution and Extinction of the Dinosaurs
". /
uk