Pronunciation:
BRAK-i-SEH-ruh-tops
Meaning:
Short horn face
Author/s:
Gilmore (
1914
)
Synonyms:
None known
First Discovery:
Montana, USA
Chart Position:
81
Brachyceratops montanensis
Discovered on a Blackfoot reservation in Teton County, Brachyceratops was named on the strength of a jumble of bones pertaining to five juveniles—possibly nest-fellows that had stayed together after hatching—which has made research a tad problematic.
Ceratopsian features change dramatically with age, especially in the shape, size and angle of their horns and frills, so although paleontologists suspect Brachyceratops represents an immature version of a critter that is already known from adult material, comparisons are impossible without a series of growth stage specimens showing how one gradually morphed into the other.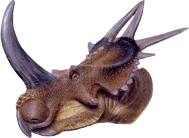 Gilmore referred a larger subadult specimen (USNM 14765) to Brachyceratops in 1939, but McDonald assigned it to the same area's uber-nose-horned Rubeosaurus—known as Styracosaurus ovatus until 2010—in 2011. Some experts think all of the infant specimens, and thus Brachyceratops in its entirety, may belong to Styracosaurus too, but if this is the case then their stumpy infant snout bumps and frill-border pimples had a heck of a lot of growing to do.
Etymology
Brachyceratops is derived from the Greek "brachys" (short), "ceras" (horn) and "ops" (face), alluding to its short snout. The
species epithet
,
montanensis
, means "from Montana" in Latin.
Discovery
The first remains of
Brachyceratops
were discovered in the Two Medicine Formation of Teton County, Montana, by C.W. Gilmore and his assistant J.F. Strayrer in 1913.
The
holotype
(USNM 7951, currently housed at the Smithsonian Institute of Washington D.C) is a partial, juvenile skull. A larger, subadult specimen (USNM 14765) discovered a mile away from the original site was referred here by Gilmore in 1939.