CASEOSAURUS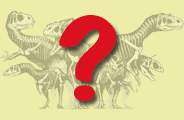 Pronunciation
:
KAY-see-o-SOR-us
Meaning
: Case's lizard
Named by
: Hunt, Lucas, et al. (1998)
Previous names
: Coelophysis .sp
First discovery
: Texas, USA
Roar factor
: ?/10
Caseosaurus crosbyensis
Caseosaurus crosbyensis
began its afterlife as
Coelophysis
sp., coined by its discoverer Ermine Cowles Case (1871-1953), then it was assigned to
Chindesaurus
by Long and Murry in 1995. It was given its own name (this one) by Hunt, Lucas, Heckert, Sullivan and Lockley in 1998 because of differences between the partial hip on which it is based and the hip of
Chindesaurus
which is, rather suprisingly, missing the comparable part.
In a 2007 review of Triassic critters, the awesomely named Sterling Nesbitt hinted that its remains should never have been moved from
Chindesaurus
in the first place, but a full-on synonomy is being hampered by naff fossils. It appears that
Caseosaurus
is on borrowed time.
(Case's lizard from Crosby County)
Etymology
Caseosaurus
is derived from the surname of its discoverer (Ermine Cowles Case) and the Greek "sauros" (lizard).
The
species epithet
,
crosbyensis
(kroz-bee-EN-sis), means "from Crosby County" in Latin.
Discovery
The remains of
Caseosaurus
were discovered in the Tecovas Formation of Crosby County, Texas, USA, by Case. The
holotype
(UMMP 8870) is a partial ilium (bit of hip).
References
• A.P. Hunt, S.G. Lucas, A.B. Heckert, R.M. Sullivan, M.G. Lockley (1998) "Late Triassic dinosaurs from the western United States". • Sterling J. Nesbitt, Randall B. Irmis, William G. Parker. (2007) "
A critical re-evaluation of the Late Triassic dinosaur taxa of North America
."

• Max C. Langer (2004) "Basal Saurischia" in Weishampel, Dodson and Osmólska's "
The Dinosauria: 2nd Edition
". /
uk
.
Estimations
| | |
| --- | --- |
| Timeline: | Vital Stats: |
| Era: Mesozoic | Est. Max. Length: 2 meters |
| Period: Late Triassic | Est. Max. Height: 0.8 meters |
| Timespan: 237-228 million years ago | Est. Max. Weight: 50 kg |
| Age: Carnian | Diet: Carnivorous |
Time stands still for no man, and research is ongoing. If you spot an error or can fill any gaps, please,
drop us a line
, this site will only improve if you do.
© 2008-2014 Dinochecker unless stated |
Rss feed
| Kindly site donations
here
.
All dinos are GM free, and no herbivores were eaten during site construction!