Pronunciation:
JYAHNG-yoo-RAP-tor
Meaning:
Long-feathered plunderer
Author/s:
Han
et al
. (
2014
)
Synonyms:
Liaoning, China
First Discovery:
Liaoning, China
Chart Position:
717
Changyuraptor yangi
With tail feathers almost a foot long, which is roughly one-third of its total body length,
Changyuraptor
owns the longest feathers of any known non-bird dinosaur. Furthermore, it's the largest known member of Microraptoria—the midget theropods that sport integument in the form of feathers, and on
Changyuraptor
(and
Microraptor
) this covering extended to the lower legs where long pennaceous feathers seem to form a second pair of wings. Having mentioned "feathers" four times already you may be thinking that we erred and that
Changyuraptor
was actually a bird. It wasn't, but it wasn't far off either, though it couldn't fly like a modern bird nor glide like a bi-plane, because its shoulder and hip joints weren't supple enough.
Han
et al
. reckon this new discovery explains the role that tail feathers played during aerodynamic behavior such as flying or gliding, specifically that its long tail was also wide (it had a low-aspect-ratio) and provided stability and control during descent.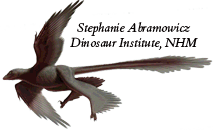 Though the ability to avoid a face-first crash landing would have been amazingly beneficial, the author's conclusions are based on the assumption that
Changyuraptor
could fly or glide in the first place. And the possibility that an ostentatious display to attract a mate may have been the primary (or even sole) reason for its long feathers can't be ruled out at this point.
(Yang's long-feathered plunderer)
Etymology
Changyuraptor
is derived from the Chinese "cháng yǔ" (long feather) and the Latin "raptor" (plunderer, snatcher, robber or thief). The
species epithet
,
yangi
(YAHNG-ie), honors Professor Yang Yandong.
Discovery
The remains of
Changyuraptor
were discovered at Xijianchang in the Yixian Formation (Jehol Biota), Liaoning Province, China, by local farmers.
The
holotype
(HG B016) is an almost complete skeleton and skull with feather impressions, compressed on a plate and counterplate.