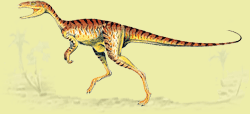 Pronunciation
:
shin-dee-SOR-us
Meaning
: Chinde lizard
Authors
: Long and Murry (1995)
Synonyms
:
Caseosaurus crosbyensis
?
First discovery
: Arizona, USA
Roar factor
: 5/10
Chindesaurus bryansmalli
The skulless partial skeleton of
Chindesaurus
was discovered at the Navajo Indian-named Chiindii (evil spirit) Point in Arizona's Petrified Forest National Park in 1984, but despite a strictly meat diet and scary connotations it probably wasn't as evil as it sounds.
The type specimen, affectionately known as
Gertie
, was initially thought to be a sauropod and, at just over two meters long, it was something of a midget in theropod terms. Still, it was plenty big enough to terrorize small defenceless Triassic mammals and probably found itself on the menu of
Saurosuchus
in return. The mammals may then have eaten the latter's poop. It's called the circle of death.
A partial hip discovered in the Tecovas Formation of Crosby County was originally assigned to
Chindesaurus
(Long & Murry, 1995) and travelled all around the small primitive predator family tree before becoming
Caseosaurus crosbyensis
(Hunt
et al.
1998) based upon supposed unique features. Rumour has it they have a cheek making such a claim bearing in mind these "unique features" are present on a part of
Caseosaurus
that has yet to be discovered for
Chindesaurus
, and some experts believe a full-on synonymy is on the cards... if comparable fossils ever turn up.
(Bryan Small's Chinde lizard)
Etymology
Chindesaurus
is derived from the Navajo "Chiindii" ("evil spirit" or "ghost") which was anglicized into "Chinde", plus "sauros" which means "lizard" in Greek.
The
species epithet
,
bryansmalli
, honors Bryan Small, who made the discovery.
Discovery
The fossils of the
Chinde lizard
were recovered from the Chinle formation (yes, Chinle
not
Chinde) in the Petrified Forest National Park, Arizona, U.S.A. in 1984.
The
holotype
(PEFO 10395) includes all kinds of vertebrae, a partial left femur and right tibia, a complete right femur, the right ankle, bits of hip and ribs.
Estimations
Era
: Mesozoic
Period
: Late Triassic
Stage
: Carnian
Age
: 237-228 million years ago
Est. Max. Length
: 2.2 meters
Est. Max. Height
: 0.5 meters
Est. Max. Weight
: 22 kg
Diet
: Carnivorous
References
• Long and Murry (1995) "
Late Triassic (Carnian and Norian) tetrapods from the Southwestern United States
". • Sterling J. Nesbitt, Randall B. Irmis, William G. Parker (2007) "
A critical re-evaluation of the Late Triassic dinosaur taxa of North America
".

• Philip J. Currie & Kevin Padian (1997) "
Encyclopedia of Dinosaurs
". • M. Langer (2004) "Basal Saurischia" in "
The Dinosauria: Second Edition
". • Sterling J. Nesbitt, Randall B. Irmis, William G. Parker (2006) "
Review of the Late Triassic dinosaur record from Petrified Forest National Park
".