Pronunciation:
koh-RITH-o-RAP-tuhr
Meaning:
Helmeted plunderer
Author/s:
Lü,
et al
. (
2017
)
Synonyms:
None known
First Discovery:
Jiangxi Province, China
Chart Position:
805
Corythoraptor jacobsi
Corythoraptor
is the seventh oviraptorid known from Ganzhou, but differs from the other six (
Banji long
,
Jiangxisaurus ganzhouensis
,
Nankangia jiangxiensis
,
Ganzhousaurus nankangensis
,
Huanansaurus ganzhouensis
, and
Tongtianlong limosus
)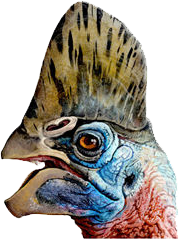 in having a very thin and highly pneumatic Cassowary-like crest or "helmet" which runs almost the full length of its noggin, a neck that is slightly longer than its forearms and fully twice as long as its back, and very wide nostrils. Based on the inner structure of its casque-like crest and its similarity to that of the modern Cassowary, it probably served similar purposes, being used as everything from a foraging tool and bellow amplifier to a billboard for advertising fitness and mojo during mating season. Known only from a single specimen which wasn't fully grown but, at roughly eight years old, wasn't far off either,
Corythoraptor
appears to be most closely related to
Huanansaurus ganzhouensis
, with both hailing from Ganzhou Railway Station, but the latter being described two years earlier.
(Jacobs' helmeted plunderer)
Etymology
Corythoraptor
is derived from Greek "koryth" (helmet; referring to its crest) and the Latin "raptor" (plunderer, snatcher, robber or thief). The
species epithet
,
jacobsi
, honors Professor Louis L. Jacobs who mentored three of the authors (Junchang Lü, Yuong-Nam Lee and Yoshitsugu Kobayashi) when they were Ph.D. students at Southern Methodist University, Dallas, Texas, USA.
Discovery
The remains of
Corythoraptor
were discovered in the Nanxiong Formation in the vicinity of Ganzhou Railway Station, Ganzhou City, Jiangxi Province, southern China. The
holotype
(JPM-2015-001, housed at the Jinzhou Paleontological Museum, Jinzhou, Liaoning Province) is an almost complete skeleton with skull and lower jaw.