Pronunciation:
KOON-ba-rah-SOR-rus
Meaning:
Kunbarra shield
Author/s:
Leahey
et al
. (
2015
)
Synonyms:
None known
First Discovery:
Queensland, Australia
Chart Position:
754
Kunbarrasaurus ieversi
The remains that would become
Kunbarrasaurus
(QM F18101) were discovered in the Allaru Mudstone on Marathon Station near Richmond, north-western Queensland in 1989. Well aware that Australia's dinosaur fossil register was a little light on entries, Ralph Molnar rushed out a preliminary description of what he believed to be a specimen of
Minmi
in 1996, which was a reasonable assumption, bearing in mind it was the only genus of
ankylosaurian
dinosaur known from Australia. And besides, the specimen was mostly stuck in tough-as-nuts bone-obscuring matrix at this point, which was a nightmare to remove.
Subsequently, the fossils were coaxed into view with the help of an acid bath then subjected to CAT scans, digital segmentation and 3D computer visualisation at Mater Adult Hospital in Brisbane, which is when palaeontologists realised they were dealing with the most complete dinosaurian fossil known from eastern Gondwana (current Australia, New Zealand, India and Antarctica), the most complete ankylosaurian skeleton from the entirety of the Gondwana, and one of the most complete ankylosaurian skeletons known from anywhere in the world. More importantly, however, they realised that they weren't dealing with
Minmi
at all but a new critter entirely, and one that was packed with an unusual melange of both primitive and derived characters. Say g'day to
Kunbarrasaurus
.
Ankylosaurians are four legged, plated herbivores that sport a parrot-like beak, and those from the Northern Hemisphere are heavily fortified with armour plates on their neck, back, flanks, tail and skull. In some cases, even their eyelids are armour-plated.
Kunbarrasaurus
, on the other hand, is a more modestly armoured member of the group that may have evolved close to the point at which ankylosaurians split from the other main branch of shield bearing (Thyreophoran) dinosaurs known as the stegosaurians, and it's this lighter armour, particularly on the skull, that has allowed experts to probe its internal plumbing.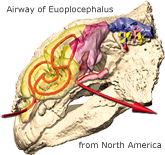 Although the cranial (brain) endocast of
Kunbarrasaurus
is superficially similar to those of other ankylosaurians, its inner ear is proportionately enormous, looking more like those of a tuatara or a turtle than anything previously seen in a dinosaur. Its nasal airway is unusual too, in that it loops back on itself, and the only dinosaurs with a more complicated design than this are the advanced North American ankylosaurids, because their nasal passages look like crazy straws.
(Ievers' shield-lizard)
Etymology
Kunbarrasaurus
combines "Kunbarra" (meaning "shield" in the Mayi language of the Wunumara People of Australia's Richmond area) and the Greek "sauros" (lizard), in reference to its heavily ossified skin. The
species epithet
,
ieversi
, honors Mr. Ian Ievers who discovered the holotype.
Discovery
The remains of
Kunbarrasaurus
were discovered at Marathon Station near Richmond, north-western Queensland, Australia, in the Allaru Mudstone (uppermost part of the Wilgunya Subgroup, Rolling Downs Group, Eromanga Basin) by Mr. Ian Ievers in 1989.
The
holotype
(QM F18101) is a 95 per cent complete specimen, including a near complete skull that is 30 per cent longer than it is wide.