NOASAURUS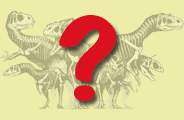 Pronunciation
:
NOH-uh-SOR-us
Meaning
: Northwest Argentina LIZARD
Named by
: Bonaparte & Powell (1980)
Previous names
: None known
First discovery
: Salta, Argentina
Roar factor
: 5/10
Noasaurus leali
Noasaurus
is derived from an abbreviation of "noroeste Argentina" (a Spanish term meaning "North Western Argentina", the region including Salta Province where its remains fossil was found), and the Greek "sauros" (lizard).
Discovery
The remains of
Noasaurus
were discovered in the Lecho Formation at El Brete, Salta Province, Northwest Argentina, by a team led by José Bonaparte between 1975 and 1977. The
holotype
(PVL 4061) consists of a skull and vertebrae.
References
• J.F. Bonaparte and J.E. Powell (1980) "A continental assemblage of tetrapods from the Upper Cretaceous beds of El Brete, northwestern Argentina (Sauropoda, Coelurosauria, Carnosauria, Carnosauria, Aves)". • F.L. Agnolin and P. Chiarelli (2010) "The position of the claws in Noasauridae (Dinosauria: Abelisauroidea) and its implications for abelisauroid manus evolution".
Estimations
| | |
| --- | --- |
| Timeline: | Vital Stats: |
| Era: Mesozoic | Est. Max. Length: 2.4 meters |
| Period: Late Cretaceous | Est. Max. Height: ? |
| Timespan: 71-65.5 million years ago | Est. Max. Weight: 22 kg |
| Age: Maastrichtian | Diet: Carnivorous |
Time stands still for no man, and research is ongoing. If you spot an error or can fill any gaps, please,
drop us a line
, this site will only improve if you do.
© 2009-2013 Dinochecker unless stated |
Rss feed
| Kindly site donations
here
.
All dinos are GM free, and no herbivores were eaten during site construction!