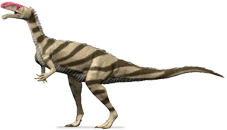 Pronunciation
:
NO-wah-SOR-us
Meaning
: Northwestern Argentina lizard
Authors
: Bonaparte & Powell (1980)
Synonyms
: None known
First discovery
: Salta, Argentina
Roar factor
: 5/10
Noasaurus leali
(Leal's Northwestern Argentina lizard)
Etymology
Noasaurus
is derived from an abbreviation of "noroeste Argentina" (a Spanish term meaning "North Western Argentina", the region including Salta Province where its remains were found), and the Greek "sauros" (lizard). The
species epithet
,
leali
(LEE-uh-lye), honors Don Fidel Leal, owner of the property on which the fossils were found. Coincidently, one of the technicians from the Paleontology Section of the Instituto Miguel Lillo who cleaned and prepared the remains is namesake J. C. Leal.
Discovery
The remains of
Noasaurus
were discovered in the Lecho Formation at El Brete, Salta Province, Northwest Argentina, by a team led by José Bonaparte between 1975 and 1977. The
holotype
(PVL 4061) consists of a skull and vertebrae.
Estimations
Era
: Mesozoic
Period
: Late Cretaceous
Stage
: Maastrichtian
Age
: 71-66 million years ago
Est. Max. Length
: 1.5 meters
Est. Max. Height
: ?
Est. Max. Weight
: 15 kg
Diet
: Carnivorous
References
• J.F. Bonaparte and J.E. Powell (1980) "A continental assemblage of tetrapods from the Upper Cretaceous beds of El Brete, northwestern Argentina (Sauropoda, Coelurosauria, Carnosauria, Carnosauria, Aves)". • F.L. Agnolin and P. Chiarelli (2010) "The position of the claws in Noasauridae (Dinosauria: Abelisauroidea) and its implications for abelisauroid manus evolution". • G.S. Paul (2010) "
The Princeton Field Guide to Dinosaurs
". /
uk
(page 82).