NOTOCERATOPS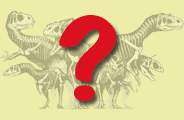 Pronunciation
:
not-o-
SER-a-tops
Meaning
: Southern horned face
Named by
: Tapia (1918)
Previous names
: None known
First discovery
: Chubut, Argentina
Roar factor
: ?/10
Notoceratops bonarellii
In 1918 Augusto Tapia referred to
Notoceratops
as a ceratopsian and was nearly laughed out of science. If you want your discovery to be considered a bona-fide ceratopsian—or horn-faced dinosaur—you need to have proof in the form of a fossilized horned face, or a horn that may have been attached to a face, or at least a face, and
Notoceratops
is known only from a dentiary—the tooth bearing bone of the lower jaw... and in this case it was lacking the teeth!
Also hindering his case was the previous lack of ceratopsian remains from the entire Southern Hemisphere never mind South America, and even when
Serendipaceratops
bolstered the number of potential ceratopsians from this side of the globe to a whopping two the
Notoceratops
ceratopsian cause was not helped by the fact that its only known remains were long lost by this point.
First described by Friedrich von Huene in 1929, it's just as likey that
Notoceratops
is a duck-billed hadrosaur—not exactly common in these parts themselves, though a damned sight more so than neoceratopsians—but with no remains to re-evaluate we will never really know.
(Bonarelli's southern horn face)
Etymology
Notoceratops
is derived from the Greek "notos" (the South), "ceras" (horn) and "ops" (face) for its discovery in the Southern Hemisphere and presumed position as a ceratopsian (horn-faced) dinosaur.
The
species epithet
,
bonarellii
(BON-uh-RELL-eye) honours Guido Bonarelli who advised Tapia in his study of the find. It is often mispelled with just the one "i".
Discovery
The only confirmed remains of
Notoceratops
were was discovered near the Lago Colhué Huapí in Chubut, Argentina, by Augusto Tapia in 1918.
The
holotype
- a toothless lower jaw bone (dentiary) - is lost.
References
• A. Tapia (1918) "Una mandibula de dinosaurio procedente de Patagonia". • F. von Huene (1929) Los saurisquios y ornitisquios del Cretacéo Argentino. Anales del Museo de La Plata (series 3). 3, 1-196 • Peter Dodson (1998) "
The Horned Dinosaurs: a Natural History
". /
uk
.
Estimations
| | |
| --- | --- |
| Timeline: | Vital Stats: |
| Era: Mesozoic | Est. Max. Length: ? |
| Period: Late Cretaceous | Est. Max. Height: ? |
| Timespan: 71-68.5 million years ago | Est. Max. Weight: ? |
| Age: Maastrichtian | Diet: Herbivorous |
Time stands still for no man, and research is ongoing. If you spot an error or can fill any gaps,
drop us a line
, this site will only improve if you do. Please go
here
to add a dinosaur,
here
to answer an FAQ. © 2008-2014 Dinochecker unless stated |
Rss feed
| Kindly site donations
here
.
All dinos are GM free, and no herbivores were eaten during site construction! To cite this page:
Lee Atkinson (DinoChecker) "NOTOCERATOPS: from DinoChecker's dinosaur archive".
http://www.dinochecker.com/dinosaurs/NOTOCERATOPS
. Web access: 01 Aug. 2014.