PISANOSAURUS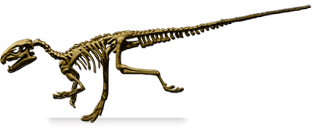 Pronunciation
:
pee-SAHN-o-SOR-us
Meaning
: Pisano's lizard
Author
: Casamiquela (1967)
Previous names
: None known
First discovery
: La Rioja, Argentina
Roar factor
: 1/10
Pisanosaurus mertii
(Merti and Pisano's Lizard)
Etymology
Pisanosaurus
is derived from "Pisano" (for Argentine paleontologist Juan A. Pisano of La Plata Museum) and the Greek "sauros" (lizard).
The
species epithet
,
mertii
, honors late Araucanian naturalist Carlos Merti.
Discovery
The remains of
Pisanosaurus
were discovered at Agua de Las Catas (aka Hoyada del Cerro Las Lajas) in the Ischigualasto Formation, La Rioja, Argentina, by José Bonaparte, Herbst and the preparators Vince and Scaglia in 1962.
The
holotype
(PVL 2577) is a partial skeleton including partial upper and lower jaws, seven back vertebrae, and the lower part of a hindlimb. A shoulder blade and some forearm bones were assigned here toe but they've since been lost, and some paleontologists suspect they never belonged here in the first place.
Estimations
Era
: Mesozoic
Period
: Late Triassic
Timespan
: 235-221 million years ago
Age
: Carnian
Est. Max. Length
: 1 meter
Est. Max. Height
: ?
Est. Max. Weight
: 8 kg
Diet
: Herbivorous
References
• Casamiquela R.M. (1967) "
Un nuevo dinosaurio ornitisquio triásico (Pisanosaurus mertii; Ornithopoda) de la Formación Ischigualasto, Argentina
". • Bonaparte J.F. (1976) "
Pisanosaurus mertii Casamiquela and the origin of the Ornithischia
". • Novas F.E. (2009) "
The Age of Dinosaurs in South America
". /
uk
. • Brett-Surman M.K., Holtz Jnr T.R. and Farlow J.O. (2012) "
The Complete Dinosaur: Second Edition
". /
uk
.
Time stands still for no man, and research is ongoing. If you spot an error, or want to expand, edit or suggest an entry feel free to
drop us a line
. Go
here
to answer an FAQ. © 2010-2015 Dinochecker unless stated |
Rss feed
| Kindly site donations
here
.
All dinos are GM free, and no herbivores were eaten during site construction! To cite this page:
Atkinson, Lee (DinoChecker) "PISANOSAURUS: from DinoChecker's dinosaur archive".
‹
http://www.dinochecker.com/dinosaurs/PISANOSAURUS
›. Web access: 31st Jan 2015.