Pronunciation:
STROOTH-ee-o-MIEM-us
Meaning:
Ostrich mimic
Author/s:
Osborn
(
1917
)
Synonyms:
Ornithomimus altus
First Discovery:
Alberta, Canada
Chart Position:
91
Struthiomimus altus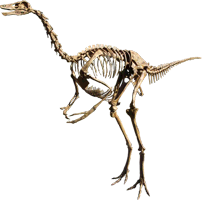 Unlike the ridiculously-named
Struthiosaurus
(the "ostrich lizard" that's an armoured, four-legged, nodosaurid ankylosaur),
Struthiomimus
(the "Ostrich mimic") actually boasts some similarities to its namesake. It has long legs, a small toothless skull, and the ability to outrun most things, just like the modern Ostrich (
Struthio
). However, so does a dinosaur called
Ornithomimus
, and that's exactly where
Struthiomimus
spent the best part of two decades, having been assigned there as
Ornithomimus altus
by Lawrence Lambe in 1902.
(Lofty ostrich mimic)
Etymology
Struthiomimus
is derived from the Greek "strouthion" (ostrich) and "mimos" (mimic) because the shape of its head, neck and legs are similar to those of a modern ostrich.
The
species epithet
,
altus
, means "lofty" (or tall) in Latin.
Discovery
The
holotype
of
Struthiomimus
(NMC 930—a partial skeleton) was discovered in the Oldman Formation (Belly River Group), Steveville, Alberta, Canada, by Lawrence Lambe in 1901.