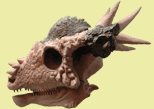 Stygimoloch spinifer
Etymology
Stygimoloch
: from the Greek "Styx" (the mythical river over which Charon would ferry shades to Hades) and the Hebrew "moloch" (demon or horrid king).
The
species epithet
,
spinfer:
from the Latin "spina" (thorn) and "fero" (to bear).
Discovery
The first fossils of
Stygimoloch
were recovered from Montana's Hell Creek Formation, U.S.A. The
holotype
(UCMP 119433), discovered in 1983, is a partial skull (left squasmosal). Part of the right squamosal (YPM 335) from Wyoming's Lance Formation was later referred.