Pronunciation:
veh-LOH-sih-RAP-tor
Meaning:
Swift plunderer
Author/s:
Osborn
(
1924
)
Synonyms:
Ovoraptor djadochtari
First Discovery:
Ömnögovi, Mongolia
Chart Position:
114
Velociraptor mongoliensis
(Swift Plunderer of Mongolia)
Etymology
Velociraptor
is derived from the Latin "velocis" (swift) and "raptor" (plunderer).
The
species epithet
,
mongoliensis
, is a nod to the area of discovery - Mongolia.
Before Henry Fairfield Osborn named
Velociraptor
he mentioned the animal in a popular press article under the name "Ovoraptor djadochtari". However, this name lacked a formal description so
Velociraptor
has priority.
Discovery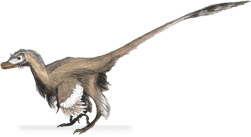 The first fossils of
Velociraptor
were discovered in the "Flaming Cliffs" (aka Bayn Dzak and Shabarakh Usu), the Djadochta (aka Djadokta) Formation, Ömnögovi, by Peter Kaisen during an American Museum of Natural History expedition to the Outer Mongolian Gobi Desert on 11 August 1923. The
holotype
(AMNH 6515) is a crushed skull and a single claw from its toe.