Pronunciation:
jahng-huhng-long
Meaning:
Zhang Heng's dragon
Author/s:
Xing
et al
. (
2014
)
Synonyms:
None known
First Discovery:
Henan, China
Chart Position:
714
Zhanghenglong yangchengensis
(Zhang Heng's dragon from Yangcheng)
Etymology
Zhanghenglong
combines "Zhang Heng" (a famous Chinese astronomer, mathematician, inventor, poet, and statesman who lived during the Eastern Han Dynasty (AD 25–220) of China) with the Mandarin Chinese "long" (dragon). The
species epithet
,
yangchengensis
, is derived from "Yangcheng" (a large administrative region including what is now southwestern Henan Province that was established in the Spring and Autumn period (BC 770–403) of the Eastern Zhou Dynasty of China) and the Latin "ensis" (from).
Discovery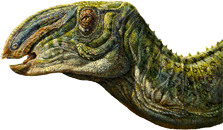 The remains of
Zhanghenglong
were discovered in the middle member (unit 2) of the Majiacun Formation at Zhoujiagou Village, close to the Xixia Basin, Xixia County, southwestern Henan Province, China, in 2011.
The
holotype
(XMDFEC V0013) is a partial skull. A partial skeleton (XMDFEC V0014) represents the paratype.