Categories:
Theropoda
•
Carnivore
•
Argentina
•
Los Colorados
•
Triassic
ZUPAYSAURUS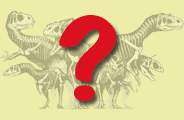 Pronunciation
:
ZOO-pay-SOR-us
Meaning
: Devil lizard
Named by
: Arcucci & Coria (2003)
Previous names
: None known
First discovery
: La Rioja, Argentina
Roar factor
: 5/10
Zupaysaurus rougieri
Zupaysaurus
—"devil lizard"—was discovered at the Quebrada de los Jachaleros locality of Argentina's La Rioja Province and like most Late Triassic bipedal predators it has been a devil to classify. Once thought to be the oldest known tetanurine,
Zupaysaurus
sports several features which hint at a more basal position than that, and it may be a coelophysoid or a non-coelophysoid non-tetanuran theropod allied with the slightly more advanced dilophorosaurids—the critters formerly known as coelophysoids.
Its lower ankle bones (astragalus and calcaneum) are fused together which is a condition similar to that of primitive theropods such as
Coelophysis
. Scientists initially thought it was in posession of two parallel head crests running the length of its snout but recent research suggests they may just be two bony plates associated with the plumbing of its eyes (lacrimal bones) which had gone astray during fossilization.
(Rougier's devil lizard)
Etymology
Zupaysaurus
is derived from "Zupay" (the Incan Death God who rules Uka Pacha - the Incan underworld) and the Greek "sauros" (lizard). Zupay (aka Supay) was particularly fond of children, from a culinary point of view, and was such an unsavoury character that Catholic priests, after the Spanish "smash and grab" of the Americas, convinced the Quechuan people that he was actually the Christian Devil.
The
species epithet
,
rougieri
, honors expedition leader Guillermo Rougier.
Discovery
The remains of
Zupaysaurus
were discovered at the "Quebrada de los Jachaleros" locality within the Los Colorados Formation of La Rioja province, Argentina.
The
holotype
(PULR-076) consists of a partial skull, right shoulder girdle, lower right leg and ankle, and 12 vertebrae from the neck, back, and hips.
References
• A.B. Arcucci & Rodolfo A. Coria (2003) "A new Triassic carnivorous dinosaur from Argentina". • D.B. Weishampel, P.M. Barrett, R.A. Coria, J. Le Loueff, X. Xu, X. Zhao, A. Sahni, E.M.P. Gomani and C.R. Noto (2004) "Dinosaur distribution" in Weishampel, Dodson and Osmólska's "
The Dinosauria: 2nd Edition
". /
uk
• M.D. Ezcurra (2007) "The cranial anatomy of the coelophysoid theropod
Zupaysaurus rougieri
from the Upper Triassic of Argentina". • M.D. Ezcurra and F. E. Novas (2011) "Phylogenetic relationships of the Triassic theropod
Zupaysaurus rougieri
from NW Argentina".
Estimations
| | |
| --- | --- |
| Timeline: | Vital Stats: |
| Era: Mesozoic | Est. Max. Length: 5.2 meters |
| Period: Late Triassic | Est. Max. Height: 2 meters |
| Timespan: 209-201 million years ago | Est. Max. Weight: 200 kg |
| Age: Rhaetian | Diet: Carnivorous |
Time stands still for no man, and research is ongoing. If you spot an error or can fill any gaps, please,
drop us a line
, this site will only improve if you do.
© 2008-2014 Dinochecker unless stated |
Rss feed
| Kindly site donations
here
.
All dinos are GM free, and no herbivores were eaten during site construction!